The Scent of Scandal: Greed, Betrayal, and the World's Most Beautiful Orchid (Hardcover)
Upcoming Events
No upcoming events available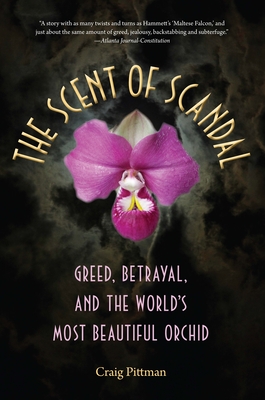 Description
---
Some people will do anything for beauty or fame
FANTASTIC. If I did not know most of the main players I would have thought the author had a vivid and twisted imagination.. Paul Martin Brown, author of "Wild Orchids of Florida"
A fascinating true story of obsession, greed, and lust for the unobtainable. Reminds me a great deal of"The Maltese Falcon." This rare flower is definitely the stuff that dreams are made of. Ace Atkins, author of "Devil's Garden" and "Infamous"
Pittman has captured the extreme competition, unique characters, and general insanity that often typify the orchid world. "The Scent of Scandal "exemplifies how passion and profit can overrule common sense and the law. Scott Steward, former associate editor, "North American Native Orchid Journal"
Every year more than 100,000 people visit Sarasota's Marie Selby Botanical Gardens, in large part to see its vast orchid collection, one of the most magnificent in the world. But the most famous orchid in Selby's history the one hailed as the most significant find in a century isn't on display. It's the one that led to search warrants, a grand jury investigation, and headlines around the country.
Discovered in Peru in 2002, the"Phragmipedium kovachii"quickly became the most sought-after orchid in the world. Prices soared to $10,000 on the black market and otherwise rational people bent rules and broke laws in their obsessive quest to possess it.
Award-winning journalist Craig Pittman covered this fascinating story, as it happened, for the"St. Petersburg Times," Florida's largest newspaper. In this enthralling account, he unravels the tangled web of smugglers, scientists, and federal investigators to reveal who the real criminals were in this sordid affair. He also shines a spotlight on flaws in the international treaties governing trade in endangered wildlife treaties that often protect individual plants and animals in shipping but do little to halt the destruction of whole colonies in the wild.
With candid interviews from nearly everyone involved in the case, "The Scent of Scandal"unspools like a riveting mystery novel, stranger than anything in Susan Orlean s"The Orchid Thief"or the film"Adaptation." Pittman shows how some people can become so obsessed with beauty, with profit, with fame, with the desire to own a rare flower that even the possibility of going to prison will not deter their risking everything.
Craig Pittmanwrites about environmental issues for the"St. Petersburg Times." He is the coauthor of"Paving Paradise: Florida's Vanishing Wetlands and the Failure of No Net Loss"and author of"Manatee Insanity: Inside the War over Florida's Most Famous Endangered Species."

About the Author
---
Craig Pittman is an award-winning journalist who writes about environmental issues for Florida s largest newspaper, the St. Petersburg Times. He is the coauthor of Paving Paradise and author of Manatee Insanity."