Always Happy Hour: Stories (Hardcover)
Upcoming Events
No upcoming events available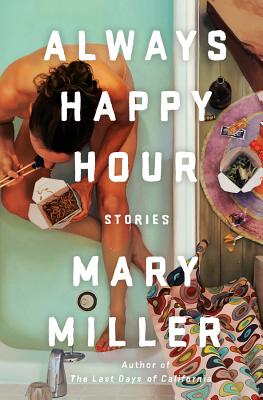 $24.95
Usually Ships in 1-5 Days
Miller's writing is stripped down and carefully refined, packing a whole vision of the world into as few eye-widening details as possible. The stories in this collection explore the realities of women living between two worlds, with one foot in the future their meant to be striving toward and the other firmly rooted in their usually grim and booze-filled present. Though the stories can verge on the harsh, they always evoke a world that is immediately recognizable and palpably real. A great new collection by a writer who never seems to disappoint.
— From
Donovan Recommends
Description
---
Combining hard-edged prose and savage Southern charm, Mary Miller showcases biting contemporary talent at its best. Fast on the heels of her "terrific" (New York Times Book Review) debut novel, The Last Days of California, she now reaches new heights with this collection of shockingly relatable, ill-fated love stories.
Acerbic and ruefully funny, Always Happy Hour weaves tales of young women--deeply flawed and intensely real--who struggle to get out of their own way. They love to drink and have sex; they make bad decisions with men who either love them too much or too little; and they haunt a Southern terrain of gas stations, public pools, and dive bars. Though each character shoulders the weight of her own baggage--whether it's a string of horrible exes, a boyfriend with an annoying child, or an inability to be genuinely happy for a best friend--they are united in their unrelenting suspicion that they deserve better.
These women seek understanding in the most unlikely places: a dilapidated foster home where love is a liability in "Big Bad Love," a trailer park littered with a string of bad decisions in "Uphill," and the unfamiliar corners of a dream home purchased with the winnings of a bitter divorce settlement in "Charts." Taking a microscope to delicate patterns of love and intimacy, Miller evokes the reticent love among the misunderstood, the gritty comfort in bad habits that can't be broken, and the beat-by-beat minutiae of fated relationships.
Like an evening of drinking, Always Happy Hour is a comforting burn, warm and intoxicating in its brutal honesty. In an unforgettable style that distinguishes her within her generation, Miller once again captures womanhood in "a raw...and heartbreaking way" (Los Angeles Review of Books) and solidifies her essential role in American fiction.