July's Book is Encircling, by Carl Frode Tiller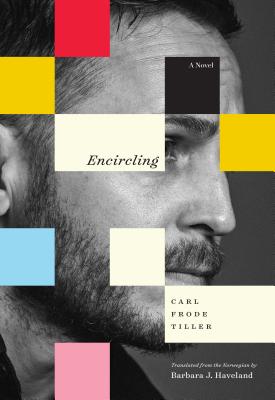 ABOUT THE BOOK:
The brilliant first novel in the Encircling Trilogy, a searing psychological portrait of a man by his friends
David has lost his memory. When a newspaper ad asks his friends and family to share their memories of him, three respond: Jon, his closest friend; Silje, his teenage girlfriend; and Arvid, his estranged stepfather. Their letters reveal David's early life in the small town of Namsos, full of teenage rebellion, the uncertainties of first love, and intense experiments in art and music.
As the narrative circles ever closer to David, the letters interweave with scenes from the present day, and it becomes less and less clear what to believe. Jon's and Silje's adult lives have run aground on thwarted ambition and failed intimacy, and Arvid has had a lonely struggle with cancer. Each has suspect motives for writing, and soon a contradictory picture of David emerges. Whose remembrance of him is right? Or do they all hold some fragment of the truth?
Carl Frode Tiller's masterful opening novel to the Encircling Trilogy won the European Prize for Literature, the English PEN Award, and the Hunger Prize. "Encircling," with David as its brooding central enigma, confronts the relativity of memory in an audacious and daring novel that reveals the shape of a life and leaves us wanting more.
ABOUT BOOK CLUB:
FAQ: What do I have to do to be in Book Club?
Answer:
Buy the book from Inkwood
•Read the book, or most of it, or none of it if your life gets in the way. We don't have a quiz, so no one will know if you sit quietly sipping wine and nodding your head at another member's intelligent remarks. Say things like, "I really have nothing to add...so and so really captured my exact feelings." Or..."I know, that's exactly how I felt after I read that chapter." And then there's blaming the author for not reading the book..."This author, well, I just couldn't really understand their style, it just didn't capture me (like those kitten videos on FB did)."
•Buy the book from Inkwood (Did we mention that already?)
•Come when you can, you are not required to attend every month and it is perfectly fine if you choose not to come because the book choice isn't to your liking.
•Have an open mind. We read a wild selection of genres, so you may find yourself outside your comfort zone....and then you may find you kinda like it there.
Event date:
Thursday, July 20, 2017 -

7:00pm

to

8:30pm

$20.80
ISBN: 9781555977627
Availability: Usually Ships in 1-5 Days
Published: Graywolf Press - February 21st, 2017
---