August's Book is The Woman Next Door, by Yewande Omotoso!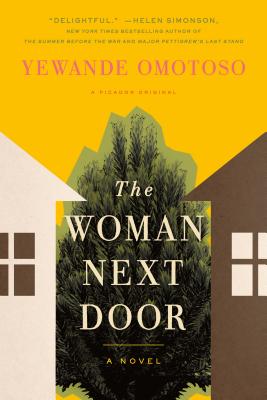 ABOUT THE BOOK:
LOVING THY NEIGHBOR IS EASIER SAID THAN DONE.
Hortensia James and Marion Agostino are neighbors. One is black, the other white. Both are successful women with impressive careers. Both have recently been widowed, and are living with questions, disappointments, and secrets that have brought them shame. And each has something that the woman next door deeply desires.
Sworn enemies, the two share a hedge and a deliberate hostility, which they maintain with a zeal that belies their age. But, one day, an unexpected event forces Hortensia and Marion together. As the physical barriers between them collapse, their bickering gradually softens into conversation, which yields a discovery of shared experiences. But are these sparks of connection enough to ignite a friendship, or is it too late to expect these women to change?
The U.S. debut of an Etisalat Prize finalist, The Woman Next Door is a winning story of the common ground we sometimes find in unexpected places, told with wit and wry humor.
ABOUT BOOK CLUB:
FAQ: What do I have to do to be in Book Club?
Answer:
Buy the book from Inkwood
•Read the book, or most of it, or none of it if your life gets in the way. We don't have a quiz, so no one will know if you sit quietly sipping wine and nodding your head at another member's intelligent remarks. Say things like, "I really have nothing to add...so and so really captured my exact feelings." Or..."I know, that's exactly how I felt after I read that chapter." And then there's blaming the author for not reading the book..."This author, well, I just couldn't really understand their style, it just didn't capture me (like those kitten videos on FB did)."
•Buy the book from Inkwood (Did we mention that already?)
•Come when you can, you are not required to attend every month and it is perfectly fine if you choose not to come because the book choice isn't to your liking.
•Have an open mind. We read a wild selection of genres, so you may find yourself outside your comfort zone....and then you may find you kinda like it there.
Event date:
Thursday, August 17, 2017 -

7:00pm

to

8:30pm

$16.00
ISBN: 9781250124579
Availability: Usually Ships in 1-5 Days
Published: Picador USA - February 7th, 2017
---