September's Book is Life Without a Recipe, by Diana Abu-Jaber!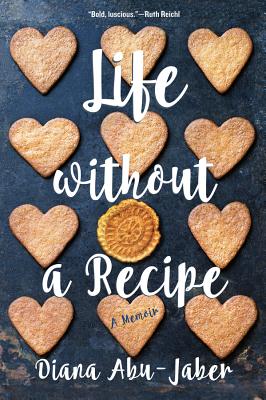 ABOUT THE BOOK:
On one side, there is Grace: prize-winning author Diana Abu-Jaber's tough, independent sugar-fiend of a German grandmother, wielding a suitcase full of holiday cookies. On the other, Bud: a flamboyant, spice-obsessed Arab father, full of passionate argument. The two could not agree on anything: not about food, work, or especially about what Diana should do with her life. Grace warned her away from children. Bud wanted her married above all--even if he had to provide the ring. Caught between cultures and lavished with contradictory "advice" from both sides of her family, Diana spent years learning how to ignore others' well-intentioned prescriptions.
Hilarious, gorgeously written, poignant, and wise, Life Without a Recipe is Diana's celebration of journeying without a map, of learning to ignore the script and improvise, of escaping family and making family on one's own terms. As Diana discovers, however, building confidence in one's own path sometimes takes a mistaken marriage or two--or in her case, three: to a longhaired boy-poet, to a dashing deconstructionist literary scholar, and finally to her steadfast, outdoors-loving Scott. It also takes a good deal of angst (was it possible to have a serious writing career and be a mother?) and, even when she knew what she wanted (the craziest thing, in one's late forties: a baby ), the nerve to pursue it.
Finally, fearlessly independent like the Grace she's named after, Diana and Scott's daughter Gracie will heal all the old battles with Bud and, like her writer-mom, learn to cook up a life without a recipe.
ABOUT BOOK CLUB:
FAQ: What do I have to do to be in Book Club?
Answer:
Buy the book from Inkwood
•Read the book, or most of it, or none of it if your life gets in the way. We don't have a quiz, so no one will know if you sit quietly sipping wine and nodding your head at another member's intelligent remarks. Say things like, "I really have nothing to add...so and so really captured my exact feelings." Or..."I know, that's exactly how I felt after I read that chapter." And then there's blaming the author for not reading the book..."This author, well, I just couldn't really understand their style, it just didn't capture me (like those kitten videos on FB did)."
•Buy the book from Inkwood (Did we mention that already?)
•Come when you can, you are not required to attend every month and it is perfectly fine if you choose not to come because the book choice isn't to your liking.
•Have an open mind. We read a wild selection of genres, so you may find yourself outside your comfort zone....and then you may find you kinda like it there.
Event date:
Thursday, September 21, 2017 -

7:00pm

to

8:30pm

$15.95
ISBN: 9780393353778
Availability: Usually Ships in 1-5 Days
Published: W. W. Norton & Company - April 4th, 2017
---