June's Book is Enchanted Islands, by Allison Amend!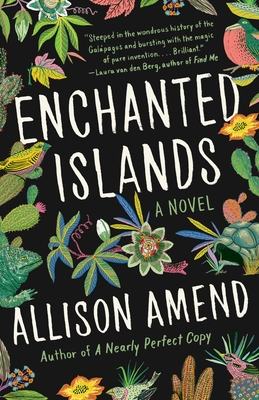 ABOUT THE BOOK:
Born to immigrant parents in Minnesota just before the turn of the century, Frances Frankowski grew up coveting the life of her best friend, Rosalie Mendel. And yet, decades later, when the women reconnect in San Francisco, their lives have diverged. Rosalie is a housewife and mother, while Frances works for the Office of Naval Intelligence and has just been given a top-secret assignment: marry handsome spy Ainslie Conway and move to the Galapagos Islands to investigate the Germans living there in the build-up to World War II.
Amid active volcanoes, forbidding wildlife and flora, and unfriendly neighbors, Ainslie and Frances carve out a life for themselves. But the secrets they harbor--from their friends, from their enemies, and even from each other--may be their undoing.
ABOUT BOOK CLUB:
FAQ: What do I have to do to be in Book Club?
Answer:
Buy the book from Inkwood
•Read the book, or most of it, or none of it if your life gets in the way. We don't have a quiz, so no one will know if you sit quietly sipping wine and nodding your head at another member's intelligent remarks. Say things like, "I really have nothing to add...so and so really captured my exact feelings." Or..."I know, that's exactly how I felt after I read that chapter." And then there's blaming the author for not reading the book..."This author, well, I just couldn't really understand their style, it just didn't capture me (like those kitten videos on FB did)."
•Buy the book from Inkwood (Did we mention that already?)
•Come when you can, you are not required to attend every month and it is perfectly fine if you choose not to come because the book choice isn't to your liking.
•Have an open mind. We read a wild selection of genres, so you may find yourself outside your comfort zone....and then you may find you kinda like it there.
Event date:
Thursday, June 15, 2017 -

7:00pm

to

8:30pm

$16.00
ISBN: 9780804172042
Availability: Usually Ships in 1-5 Days
Published: Anchor Books - April 18th, 2017
---