Adult Book Club with Author Bren McClain!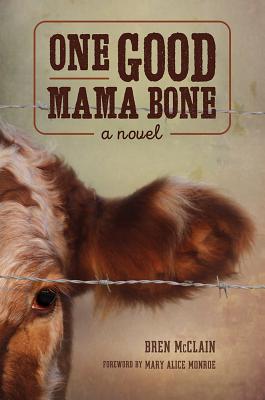 This month, our Adult Book Club is reading One Good Mama Bone by Bren McClain--and the author will be joining in on our discussion.
About the book: Set in early 1950s rural South Carolina, One Good Mama Bone chronicles Sarah Creamer's quest to find her mama bone, after she is left to care for a boy who is not her own but instead is the product of an affair between her husband and her best friend and neighbor, a woman she calls Sister. When her husband drinks himself to death, Sarah, a dirt-poor homemaker with no family to rely on and the note on the farm long past due, must find a way for her and young Emerson Bridge to survive. But the more daunting obstacle is Sarah's fear that her mother's words, seared in her memory since she first heard them at the age of six, were a prophesy, "You ain t got you one good mama bone in you, girl."
McClain's writing is distinguished by a sophisticated and detailed portrayal of the day-to-day realities of rural poverty and an authentic sense of time and place that marks the best southern fiction. Her characters transcend their archetypes and her animal-as-teacher theme recalls the likes of Water for Elephants and The Art of Racing in the Rain. One Good Mama Bone explores the strengths and limitations of parental love, the healing power of the human-animal bond, and the ethical dilemmas of raising animals for food.
About Book Club:
FAQ: What do I have to do to be in Book Club?
Answer:
•Buy the book from Inkwood
•Read the book, or most of it, or none of it if your life gets in the way. We don't have a quiz, so no one will know if you sit quietly sipping wine and nodding your head at another member's intelligent remarks. Say things like, "I really have nothing to add...so and so really captured my exact feelings." Or..."I know, that's exactly how I felt after I read that chapter." And then there's blaming the author for not reading the book..."This author, well, I just couldn't really understand their style, it just didn't capture me (like those kitten videos on FB did)."
•Buy the book from Inkwood (Did we mention that already?)
•Come when you can, you are not required to attend every month and it is perfectly fine if you choose not to come because the book choice isn't to your liking.
•Have an open mind. We read a wild selection of genres, so you may find yourself outside your comfort zone....and then you may find you kinda like it there.
Event date:
Tuesday, October 17, 2017 - 7:00pm
Event address:
Inkwood Books
216 S. Armenia Ave.

$27.99
ISBN: 9781611177466
Availability: Hard to Find
Published: University of South Carolina Press - February 14th, 2017
---