The Long Haul Tour with Author Finn Murphy!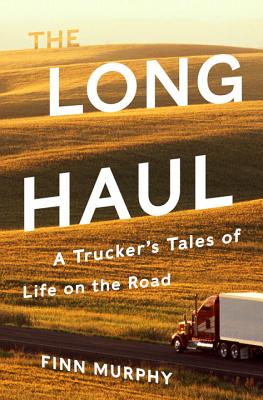 Join Finn Murphy, author of The Long Haul on Saturday, October 21, at 4:00PM at our Tampa Heights location. He'll be joined by his special eighteen-wheeler, Cassidy!
About the book: On any given day, nearly 2 million semi-truckers haul freight on American highways.
Finn Murphy is one of them. More than thirty years ago, Murphy dropped out of college
to drive a truck for a living. Since then he's covered more than a million miles packing,
loading, and hauling people's belongings all over America. Known by his trucker handle
"U-Turn," he spends his days and nights in a 532-foot, eighteen-wheeler he calls Cassidy.
He specializes in long-haul moving and, more specifically, high-end executive
relocations—in other words, the packing, transporting, and unpacking of someone's
personal loot. He's a bedbugger driving a roach coach, but these roach coaches are often
insured for millions of dollars at a time. In THE LONG HAUL: A Trucker's Tales of Life on the Road (W. W. Norton;
June 6, 2017; $26.95, hardcover) Murphy introduces us to the rollicking and often rocky
life of the professional trucker. In the candid, no-holds- barred, and entertaining tradition of Anthony Bourdain's
Kitchen Confidential, Finn Murphy's THE LONG HAUL exposes the unvarnished inner
workings of a select, reclusive world that most of us don't know.
About the author: Finn Murphy grew up in Connecticut and now lives in Colorado. He started working as a
long-haul trucker in 1980. This is his first book.
Event guideines: This event is free and open to the public, however, if guests would like a signed or personalized book from the author, a copy of The Long Haul must be purchased from Inkwood Books. Purchasing your book from our store allows us to continue bringing authors to Tampa Bay, and we appreciate your support!
CAN'T MAKE IT? If you'd like a personalized book but are unable to make the event, please call us at 813-253-2638 to pre-pay and we'll have one or more copies signed and reserved for you or shipped anywhere in the United States.
Event date:
Saturday, October 21, 2017 - 4:00pm
Event address:
Inkwood Books - Tampa Heights
1809 N. Tampa St.

$26.95
ISBN: 9780393608717
Availability: Usually Ships in 1-5 Days
Published: W. W. Norton & Company - June 6th, 2017
---