The Kids' Book Club book for September is Greenglass House by Kate Milford!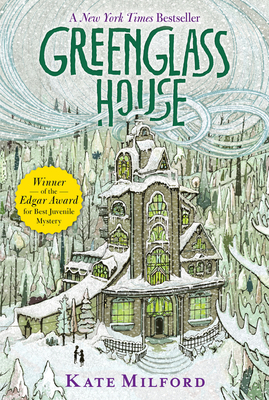 ABOUT THE BOOK:
A rambling old inn, a strange map, an attic packed with treasures, squabbling guests, theft, friendship, and an unusual haunting mark this smart middle grade mystery in the tradition of the Mysterious Benedict Society books and Blue Balliet's Chasing Vermeer series.

It's wintertime at Greenglass House. The creaky smuggler's inn is always quiet during this season, and twelve-year-old Milo, the innkeepers' adopted son, plans to spend his holidays relaxing. But on the first icy night of vacation, out of nowhere, the guest bell rings. Then rings again. And again. Soon Milo's home is bursting with odd, secretive guests, each one bearing a strange story that is somehow connected to the rambling old house. As objects go missing and tempers flare, Milo and Meddy, the cook's daughter, must decipher clues and untangle the web of deepening mysteries to discover the truth about Greenglass House-and themselves.
ABOUT KIDS' BOOK CLUB:
FAQ: What do I have to do to be in Book Club?
Answer:
•Buy the book from Inkwood! We appreciate your support.
•Read the book! Or most of it, or none of it if school gets in the way. We don't have a quiz, so no one will notice if you just want to sit quietly enjoying milk and cookies, and nodding your head at another member's insightful remarks.
•Come when you can! You are not required to attend every month, and it is perfectly fine if you choose not to come because the book choice isn't to your liking. However...
•Have an open mind! We read a wide selection of genres, and sometimes reading a book you might not have selected yourself can turn out to be one of the best books you've ever read!
Still have more questions? Email Lindsay at inkwoodbooks@gmail.com
Event date:
Monday, September 25, 2017 - 5:30pm
Event address:
Inkwood Books
216 S. Armenia Ave.

$7.99
ISBN: 9780544540286
Availability: Usually Ships in 1-5 Days
Published: Houghton Mifflin - November 1st, 2016
---